A path of growth and diversification
The history and track record of doValue Group since its listing on Borsa Italiana are remarkable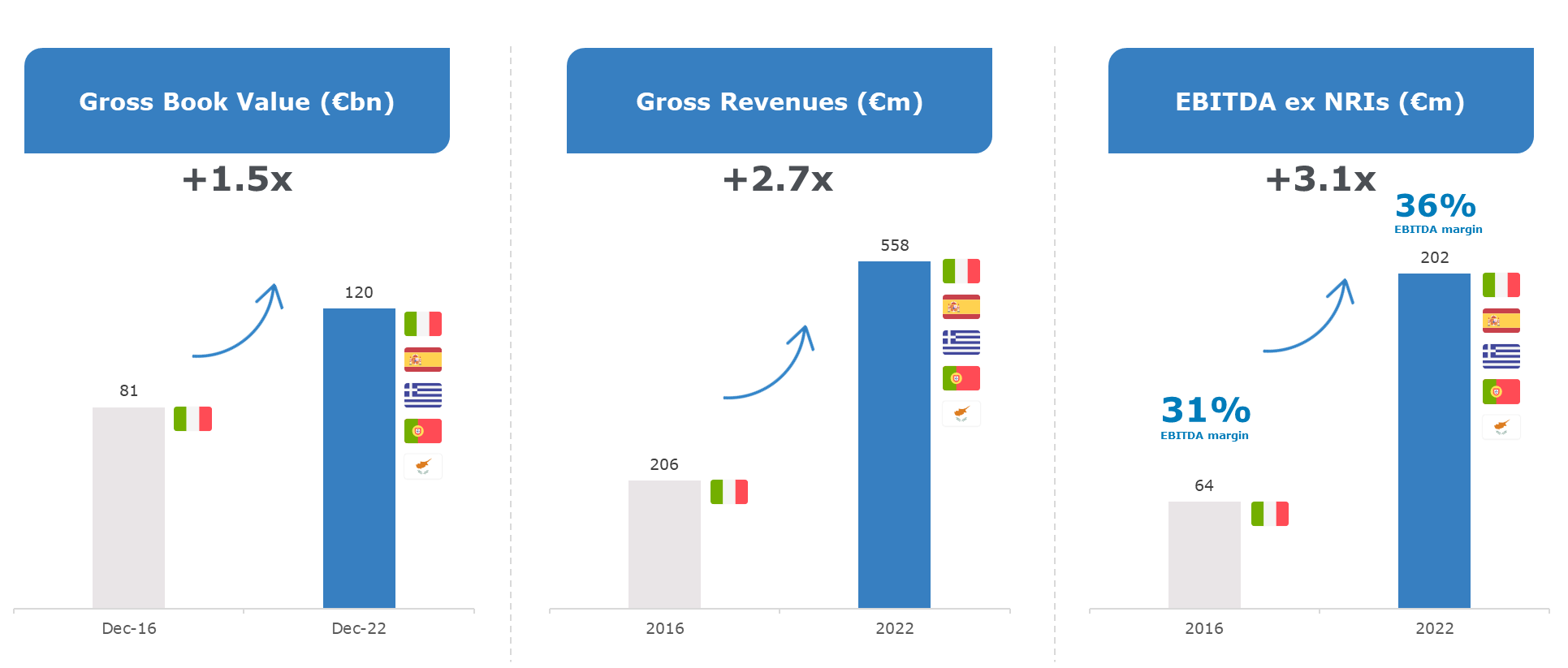 Growth brought doValue a high degree of diversification, both in terms of geographies, clients and products.
Such diversification has been aimed at creating a more complete product offering for clients and a more balanced and complete investment proposition for shareholders in addition to offering more articulated growth paths to employees.
The way growth was achieved was mainly through the acquisitions of Altamira Asset Management and FPS in 2019 and 2020 respectively, now completely integrated.
In parallel, the acquisition strategy has also focussed on innovation, for example with the acquisitions of minority stakes in fintech business QueroQuitar and proptech business BidX1, or by setting up the doLook NPL trading platform in JV with Debitos. These innovation driven activities will further enhance doValue's growth in the future.
From our origins to today
doBank
2015
Funds affiliated to Fortress acquired 100% of UCCMB and change company name as doBank S.p.A. 
doBank
2016
doBank acquires Italfondiario (today doNext).
Hence the birth of the doBank Group
doBank
2017
oBank is listed on Borsa Italiana
doBank
2018
doBank enters the Greek servicing market and announces the acquisition of Altamira Asset Management, active in Spain, Portugal and Cyprus
doValue
2019
doBank gives up its banking license and takes on the name doValue, completes the acquisition of Altamira 
doValue announces the acquisition of Greek servicer FPS Loans and Credits Claim Manage
doValue
2020
doValue completes the acquisition of FPS (today doValue Greece) and becomes market leader in Southern Europe 
doValue completed the issue of its first bond 
doValue
2021
doValue signs an agreement for the investment in a stake of c.10% in Brazilian fintech company Quero Quitar
doValue completes the issuance of its second bond
doValue acquires an approximately 15% stake in Irish proptech company Bidx1
doValue publishes the Group's first 2021-2023 Sustainability Plan.
doValue
2022
doValue is admitted to the STAR segment of Euronext Milan