doValue Greece, the top servicer in Greece, has designed and developed a comprehensive set of Corporate Responsibility actions and a structured Corporate Social Responsibility strategy, focusing on three key pillars: 
 
Society
Environment
Health
 
The main objective is to lay the foundations so that corporate responsibility actions leave a real mark on Greek society. The selection of the three pillars, which also determined our strategy, was based on the values and mentality that govern the doValue operations and reflect how we perceive the social role and obligations of a modern company. 
Drawing on our values, we could not remain idle in terms of our greatest and most important obligation to create value for society at large.
Through this strategy, we develop targeted actions with long-term multiplier-effect benefits for those who need it the most.
 
A truly positive social footprint
We envision a comprehensive set of social initiatives. Every year we add: 
Driven by a deep sense of responsibility, we try to make a real social impact. We seek to consistently and continuously meet basic needs.
The doValue Group on society and sustainability
The doValue Group considers social responsibility a fundamental issue for society and sustainability.
To this end, it continues to invest in the areas it is active in with doValue Group Corporate Social Responsibility actions:

Actions for society
Through select relationships and partnerships, the doValue Group:
Is firmly committed to combating child poverty. Since 2016 it has been a partner of Save the Children. It exclusively supports the Spazio Mamme centre in the Torre Maura district of Rome.
Promotes fund raising for scientific research on multiple sclerosis. This is why it is a partner of the AISM (Italian Multiple Sclerosis Association).
Supports cancer research. This is why it is a partner of the AIRC (Italian Association for cancer research).
 
Environmentally conscious
Since 2019, the doValue Group has been supporting the LifeGate PlasticLess® project for protecting the health of the oceans.
All doValue websites support the LifeGate Zero Impact Web® project contributing to the fight against global warming.

During the COVID-19 pandemic
During the COVID-19 pandemic crisis, the doValue Group supported the Italian National Institute for Infectious Diseases and the Lazzaro Spallanzani International Research Centre.
We strive to create a truly positive social footprint with a deep sense of responsibility.
 
doValue Group 2021 NON – Financial Statement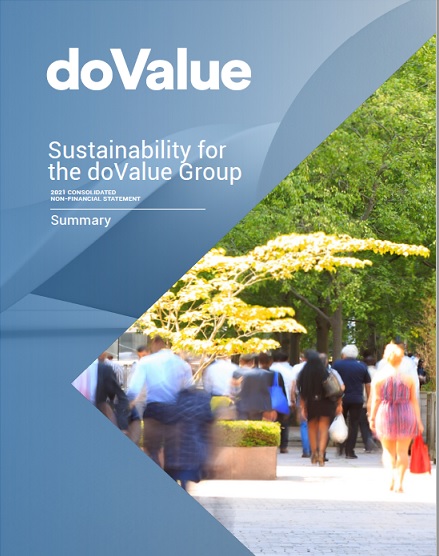 doValue Group 2020 Non-Financial Statement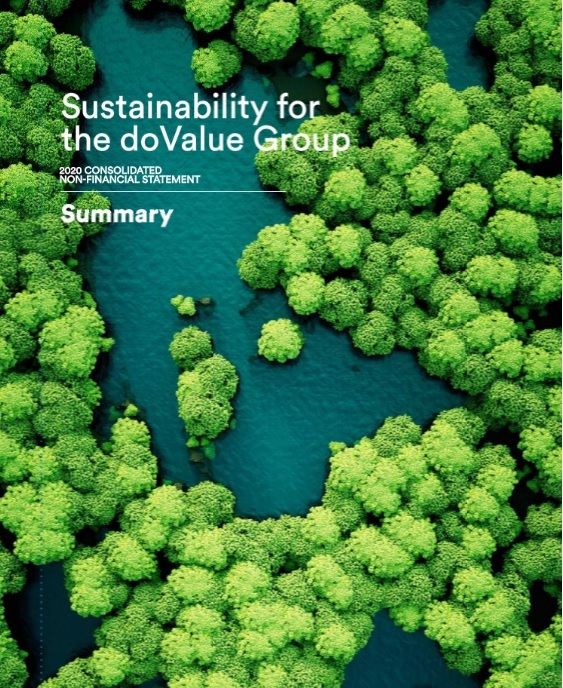 The engagement of its Stakeholders and the desire to actively contribute to a more inclusive and sustainable future have guided the development of the Group's first Sustainability Plan that integrates the ESG objectives into the business model.